Yes we're still alive! It's been a crazy 2020. On top of pandemics, wildfires, and air quality bad enough to turn day into night, our WordPress installation has been plagued with issues preventing new posts from appearing. At long last it looks like we've exorcised the spirits haunting our site, so here's what we've been up to while manually recovering posts from databases…
It's been a busy year: ATSC 3.0 (aka NextGenTV) has moved from testing to reality and services have launched in Las Vegas, Portland, and several other locations. SiliconDust did a HDHomerun Quatro 4k Kickstarter, and after an almost comical set of delays including a dock strike and Nick Kelsey hoping for no earthquakes in Southern California, they've arrived in backer's hands  (including ours!). And we've been busy making sure Project Entangle keeps pace with these developments. 
For those of you who haven't been following us, Entangle is Koherence's media technologies platform. Projects spin off of it, such as the Entangle DVR, Entangle ATSC 3.0 Front-End, and the SFBayATSC OTA broadcast monitoring system. Project Entangle started as a prospective client project to demonstrate that "out-of-home" streaming with live transcoding, adaptive bitrate, and trick modes – or spooky action at a distance – was feasible. (Editor's note: for you non-physicists, Entangle is based on quantum entanglement principles. As well as chocolate. Lots and lots of rich, dark chocolate.)
For the past couple years we've been adapting Entangle for ATSC 3.0, and that work is starting to bare fruit just as the first services light up. If you're interested in running Entangle DVR with ATSC 3.0 drop us a note! You'll need an Airwavz RedZone Receiver, which until recently was the only ATSC 3.0 tuner you could buy. We plan to add support for the SiliconDust HDHomerun Quatro 4k (dev models) in the very near future.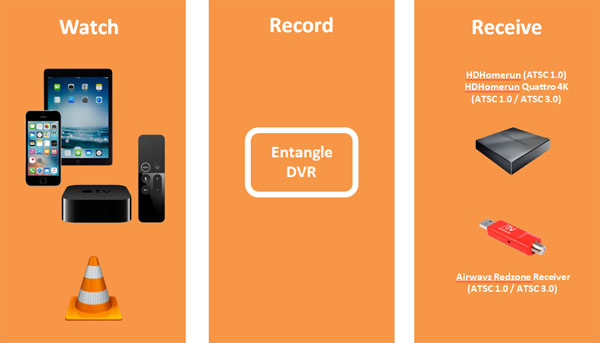 Our goal for ATSC 3.0 support for Entangle was to enable the same  experience as ATSC 1.0 with DVR,  out-of-home streaming with live transcoding, adaptive bitrate, and best-in-class trick modes while also laying the groundwork for the new features of ATSC 3.0 such as interactivity. Key to this was development of the ATSC 3.0 Front-End –  an ATSC 3.0 to ATSC 1.0 all-services transmux. The front-end takes an ATSC 3.0 broadcast, unpackages the audio, video, subtitles, and NRT data for each channel (as well as other services such as ESG and AEAT), then repackages it in an ATSC 1.0 MPEG-TS compatible bitstream. Most existing receivers, including the Entangle DVR, have been designed to work with MPEG-TS streams, so the Entangle ATSC 3.0 Front-End serves as a bridge until we can more fully ponder whether and how it makes sense to support native recording of ATSC 3.0 services. (Truth be told, while ATSC 3.0 has a far superior physical layer, we feel many aspects of the ATSC 1.0 bitstream format to be superior to ATSC 3.0. We'll go into in another post – once we dig it out of the database…)
As an all-services transmux, the Entangle ATSC 3.0 front-end allows the Entangle DVR to record all channels broadcast on a single frequency simultaneously. Requiring one tuner per broadcast frequency has been useful for ATSC 1.0 as the number of channels multiplexed on a frequency has risen. But it is particularly important with ATSC 3.0 as tuners are expensive and most ATSC 3.0 channels are "lighthoused" with several major networks sharing one broadcast frequency. Many markets have at most two ATSC 3.0 broadcast frequencies at the moment. For example in Portland KGW, (NBC), KOPB (PBS), KPTV (Fox), and KPTV (MyNetworkTV) are on RF 30 while KATU (ABC), KOIN (CBS), and KRCW (CW) are on RF 33. Phoenix likewise has two broadcasts on RF 27 and RF 35. Combined with the SiliconDust HDHomerun Quatro 4K, which sports two ATSC 3.0-capable tuners,  Entangle DVR for ATSC 3.0 can record any ATSC 3.0 channel without worry of tuner conflicts!
And we've got the beginnings of interactivity ("broadcaster apps") working as well. Here's a screenshot from 33-1 UNIV in Phoenix circa August 2020. It's a basic app and the guide doesn't seem to be wired up (at least we can't see the app asking for the ESG data…), but the weather forecast is a nice touch (though why we're getting Houston weather radar in Phoenix is a head scratcher.)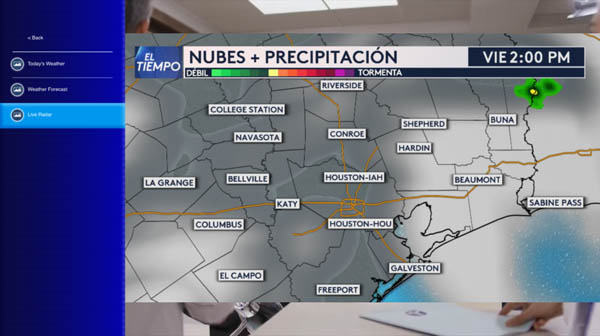 Now what we'd really like to see…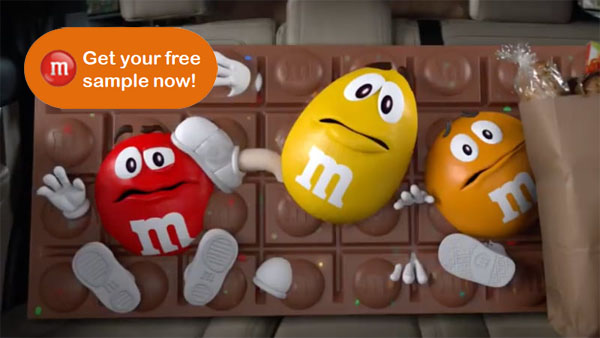 We can wish can't we?
We've been testing again broadcasts from Santa Barbara and Phoenix, captures from broadcasts that aired during the CES and NAB trade shows, and various scenarios from interops we've been fortunate to participate in. But the COVID pandemic has put a dent in our road trip to test against the deployed markets. So if you any of you have an Airwavz RedZone Receiver or HDHomerun Quatro 4k and are willing to send us short captures, drop us a note. It'd be much appreciated! (And if you'd like to run a "pre-alpha" version of Entangle DVR for ATSC 3.0 by all means get in touch too!)
We'll leave you today with a map of ATSC 3.0 deployments in the US, which we'll try to keep up to date. (Drop us a note if 3.0 services in your area aren't shown or are incorrect.). Enjoy!