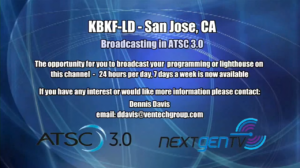 It was a bit unexpected. And the programming isn't exactly a showcase of what NextGen TV can deliver. But at long last the Bay Area has an ATSC 3.0 (aka NextGen TV) broadcast compliments of KBKF! After spending a couple years trekking to Phoenix, Santa Barbara and Las Vegas to go to the emissions it's nice to have one in our own backyard. And we're pleased to add ATSC 3.0 monitoring support at SFBayATSC!
KBKF is operated by Venture Technologies Group, LLC and broadcasts on VHF 6 from Mt. Loma Prieta. At the time of writing the 3.0 emission consists of a single PLP utilizing 64 QAM and an 8/15 code rate. This is a bit more robust than other 3.0 emissions, which often utilize 256 QAM, though at the expense of a lower capacity (~14 Mbit/s). In mid June two ROUTE/DASH services were being transmitted – a barker channel as 6-1 and UChan as 6-2. At the moment UChan has taken the 6-1 VC and the barker has signed off. Interestingly the services are using AAC audio. While this was prevalent in early 3.0 phases when AC-4 support for receivers and encoders was still under development, commercial deployments in the US are required to use AC-4. (The ATSC 3.0 specification provides for multiple audio codecs, but only a single codec is allowed in a region. In North America that codec is AC-4.)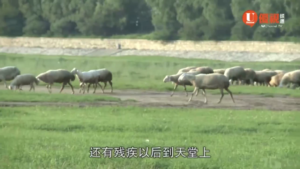 For the enthusiasts out there trying to receive KBKF, there are a few obstacles. First, Loma Prieta isn't one of the primary broadcast sites, so its not likely your antenna is oriented to receive it. If you're lucky you may be able to pick it up as a reflection or via a side lobe depending on your antenna's reception pattern. But many of you may need to add an antenna or compromise reception of current stations to find a sweet spot/orientation that also gets KBKF.
Second is that RF 6 is in the low VHF band, so your antenna may not be designed to receive it. Most ATSC 1.0 broadcasts in the Bay Area are in the UHF range with a few (notably KRON on RF 7, KGO on RF 12) in the high VHF bands. If you're unable to pick up KBKF no matter what unnatural placement or orientation you subject your current antenna to, it may be time to check if your antenna was designed to receive VHF low.
Low VHF also has the unfortunate property of being susceptible to EMI from common sources such as fluorescent light ballasts or electric motors such as those in bath fans or air conditioners.
To receive KBKF at the SFBayATSC monitor site in Mountain View we added an antenna pointed towards San Jose. The new addition is a Winegard HD7000R, a reasonably compact VHF low, VHF high, and UHF antenna. It took some doing to find a sweet spot that yielded a usable signal – which happens to be just under roofline and close to a window. The venetian blinds in said window needs to be drawn down by at least a couple feet or the signal degrades to an undemodulatable mess. We're still trying to figure out if the blinds are shielding the antenna from some EMI source, or if its acting as a reflector to enhance the incoming signal.
While CE manufacturers, broadcast equipment makers, and broadcasters have invested a lot of time preparing to bring it to the masses, 3.0 is still in its infancy and there is still a lot to be settled and vetted. SFBayATSC's 3.0 support is going back to its roots of supporting receiver developers and broadcast engineers (helping to answer that question of "What #*&#% happened to the signal to cause this!"). The data feeding SFBayATSC is coming from our own Project Entangle ATSC 3.0 front-end stack and we're looking to surface additional metrics and improve the ones currently provided. But as with our 1.0 support we're happy to add monitoring data or features that are of interest to the enthusiast community!